What an amazing experience at #DSSNYC! Day one focused on AI and Machine Learning in the FinTech space, and in every presentation, our speakers shared real-world examples of how AI and ML are making a positive impact across the industry. From longstanding government agencies to payment processing startups, these emerging technologies are helping FinTech professionals improve efficiency, reduce fraudulent activity, protect users' data, answer customer questions, and more. Our speakers were so generous with their time and expertise, creating a truly engaging and fascinating mix of topics.
The day kicked off with Supreet Kaur's discussion centering the advantages of synthetic data, particularly for FinTech companies that are held to a higher level of data privacy and regulatory standards.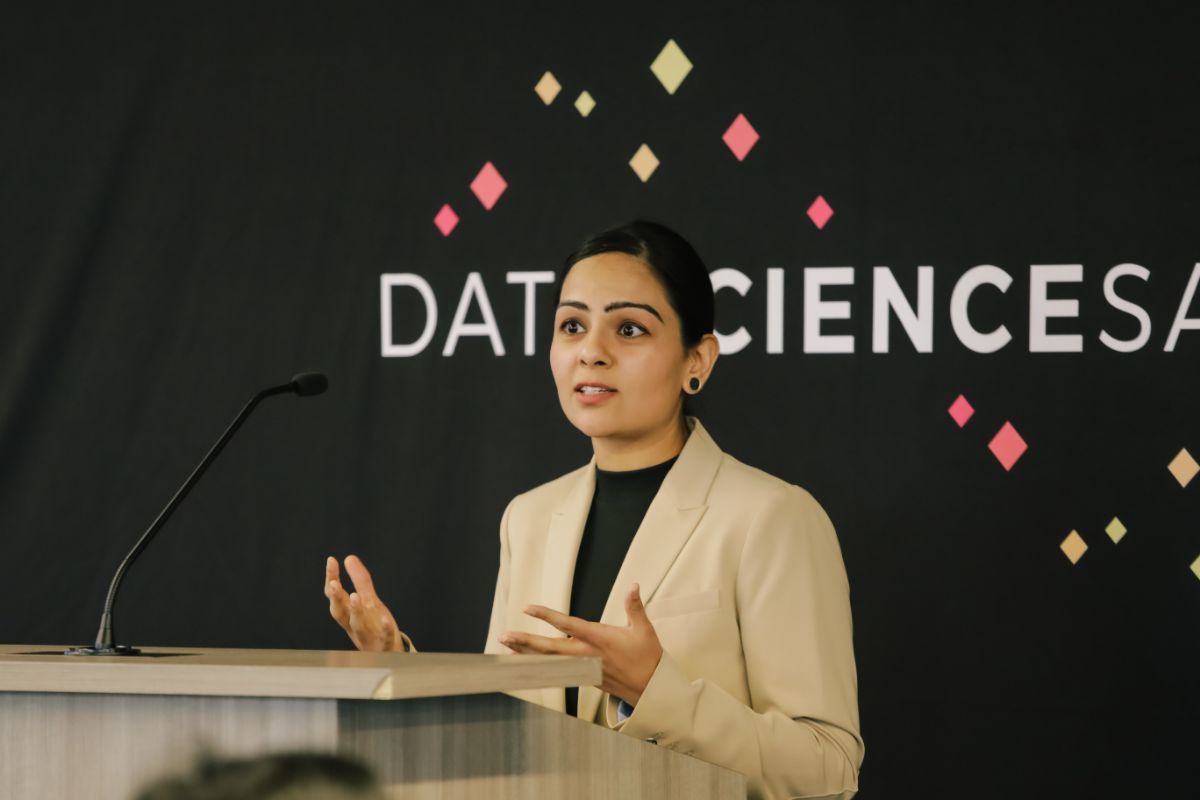 Supreet Kaur at DSS NYC 2023
Amit Moran, VP Data at Bluevine, told us why he's such a strong advocate for companies to have robust data teams, particularly as regulatory boundaries evolve and technological complexity skyrockets. Having multiple experts on-hand can make a huge difference, particularly for time-sensitive responses.
We learned how the credit industry is applying data science to analytics, enabling professionals in that field to access an unprecedented level of accuracy and granularity when identifying risk. Moody Hadi and Saraansh Arya shared their immense knowledge and enthusiasm about the future of AI and within credit analytics.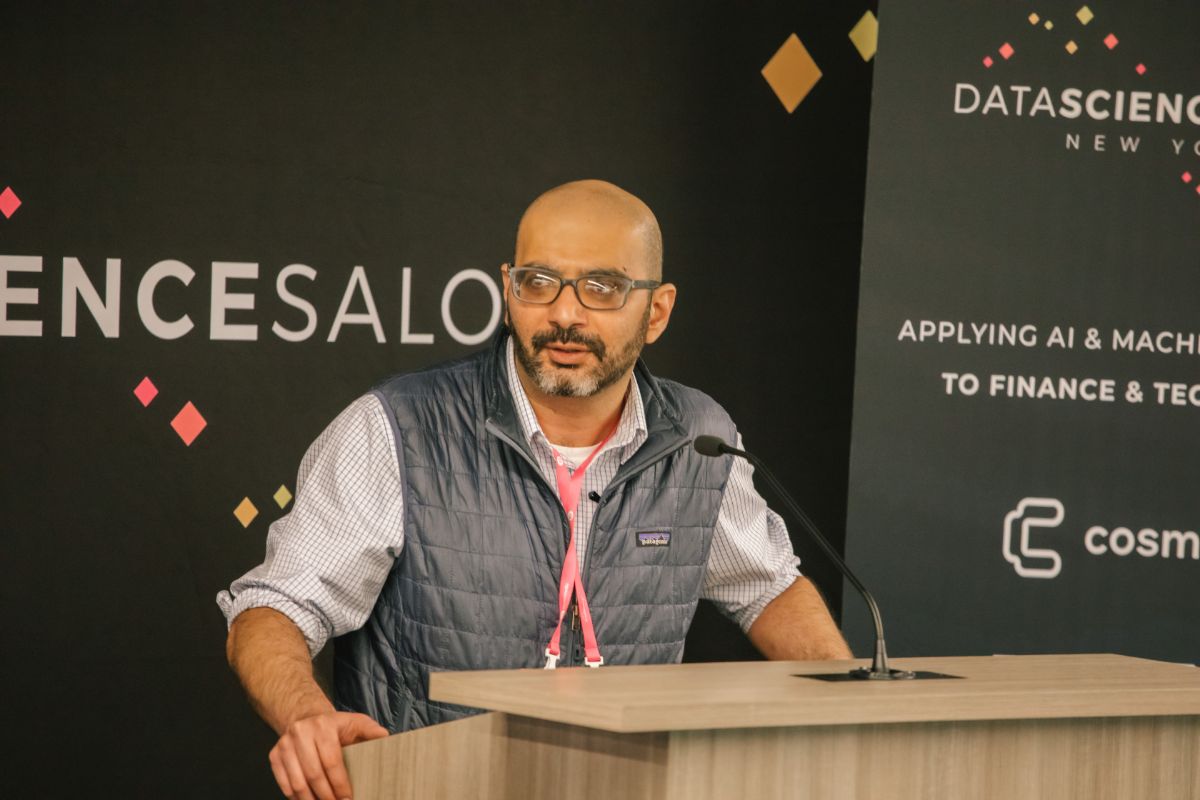 Moody Hadi at DSS NYC 2023
Elena Ferri demonstrated the connection between data science and neuroscience by asking ChatGPT whether data science is comparable to neural networks. Spoiler alert: yes it is!
Following an excellent lunch, we reconvened with a panel discussion between six industry experts - Harry Mendell, Ben Clayman, Erin Stanton, Jayeeta Putatunda, and Jhonathan Shaikh - as they walked us through current trends that are driving value via machine learning.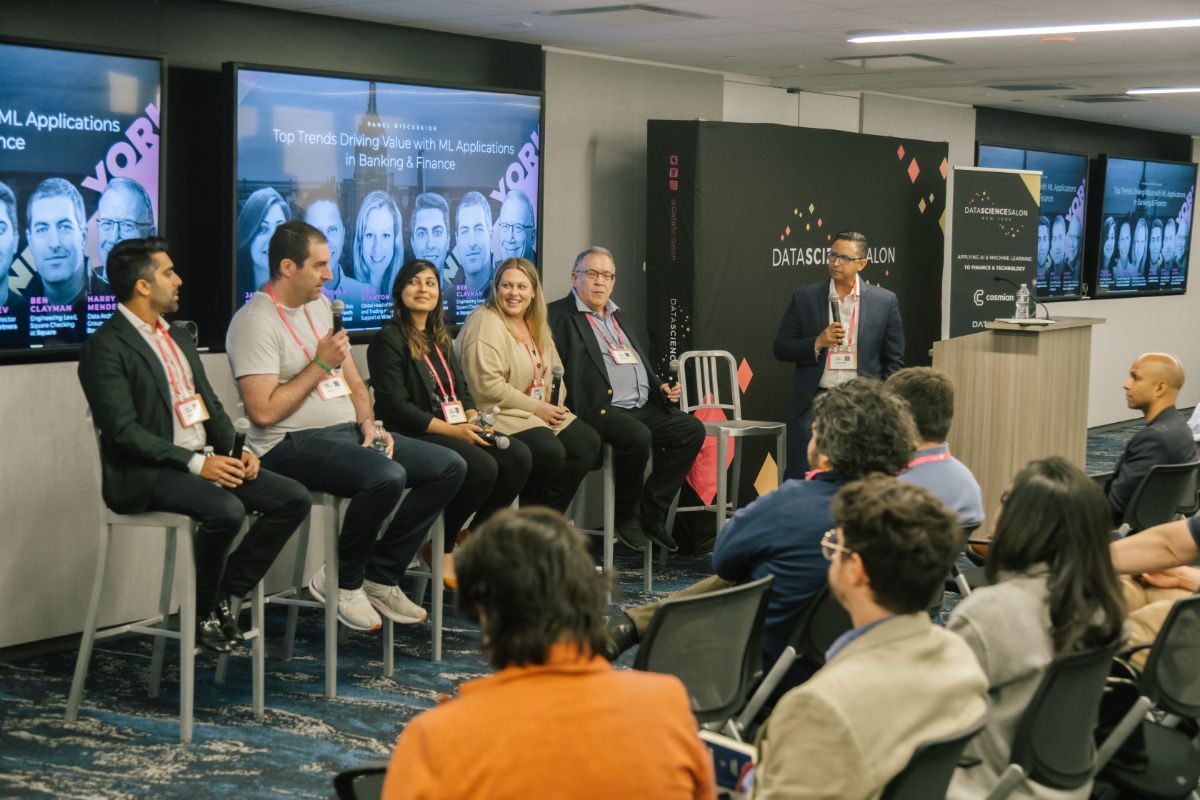 Panel: Top Trends Driving Value with ML Applications in Banking & Finance at DSS NYC 2023
David Talby treated us to the latest developments in information extraction and language, infused with his signature sense of humor.
Chatbots and virtual assistants were a popular topic. Thanks to Chong Dang, we're looking forward to the next generation of intelligent virtual assistants (IVAs) to help us navigate our daily tasks.
The ever-present ChatGPT made another significant appearance, this time with Argyro (Iro) Tasitsiomi, PhD reminding us that creative answers are great - unless you're asking a finance question. Then it's the accuracy that matters.
Gretel.ai Co-Founder and CTO John Myers responded to tough questions about machine learning capabilities (and limitations) when it comes to image analysis.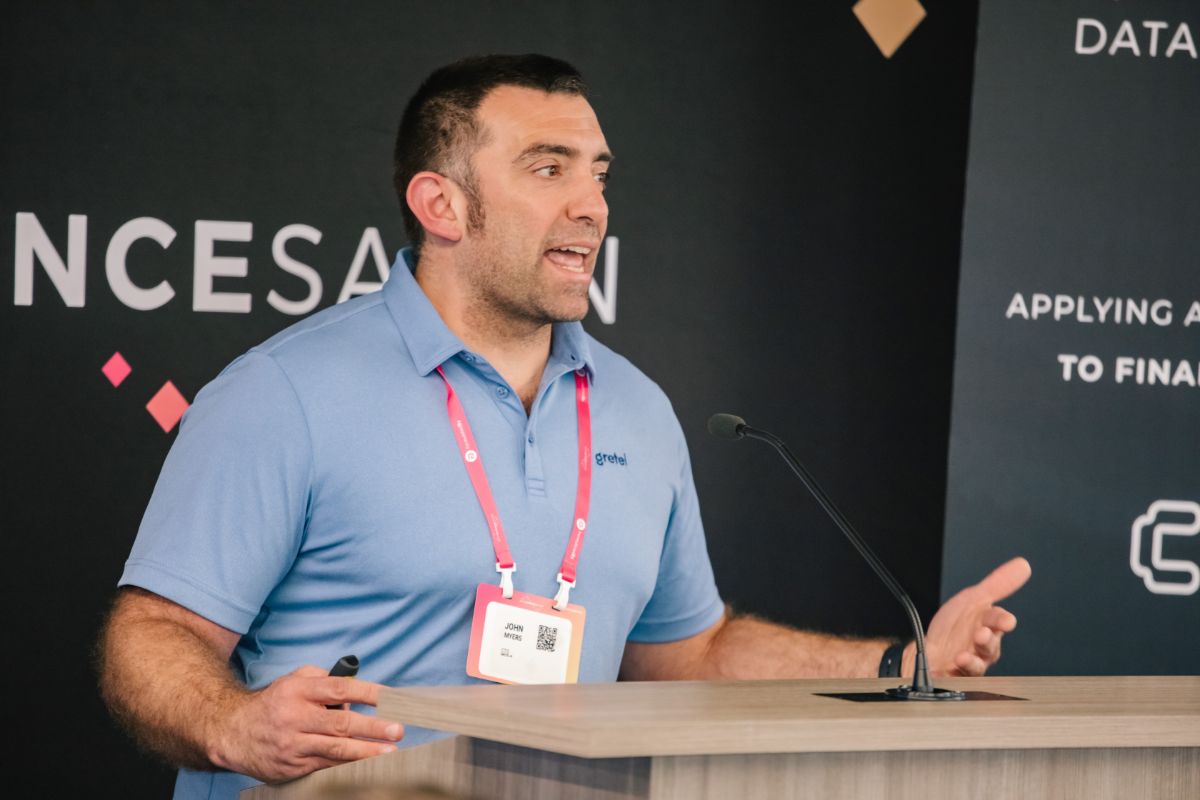 John Myers at DSS NYC 2023
Author Hariom Tatsat, CQF, FRM closed out the day by giving us several highlights from his extensive research (and his book, Machine Learning Blueprints for Finance) and his findings on machine learning's vast macroeconomic impacts.
For day two, we concentrated on the media and advertising space, and the creative ways industry leaders are applying these technologies to their work.
Di Wu, VP Data Science at Jellyfish got us started with her tips for letting experimentation guide you. Her presentation really solidified the power of trying new things.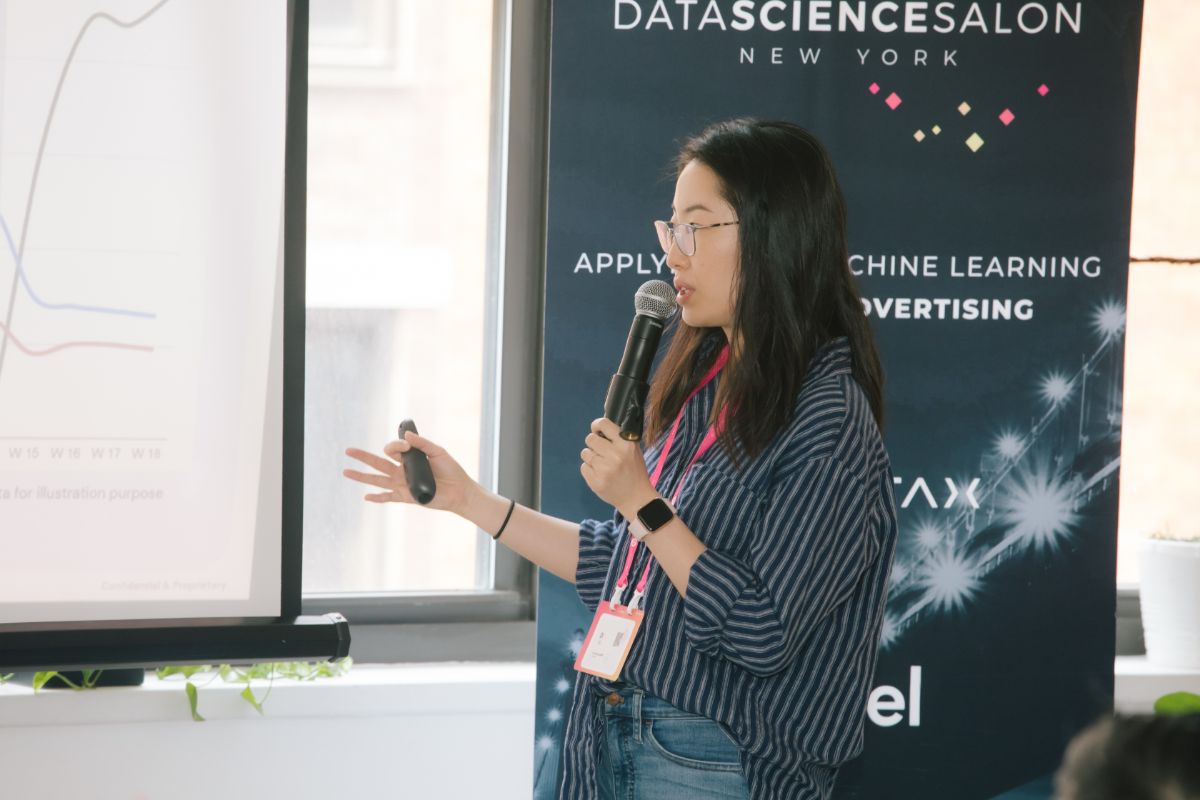 Di Wu at DSS NYC 2023
Lead DIRECTV Marketing Analyst Ruixin Zheng walked us through some of the digital tools she uses to customize the most relevant offers for new and existing subscribers.
Our fellow bookworms enjoyed hearing from Sophia Tee and Alex Eftimiades about how the publishing industry is using AI to adapt to a rapidly changing literary marketplace. We'll remember this as we're hauling our next stack of books out of the Strand.
Lunch was delicious, as always, but the real treat was a post-meal performance from the one and only Baba Brinkman, who brought his custom rap verses and unmatched energy to the data science space.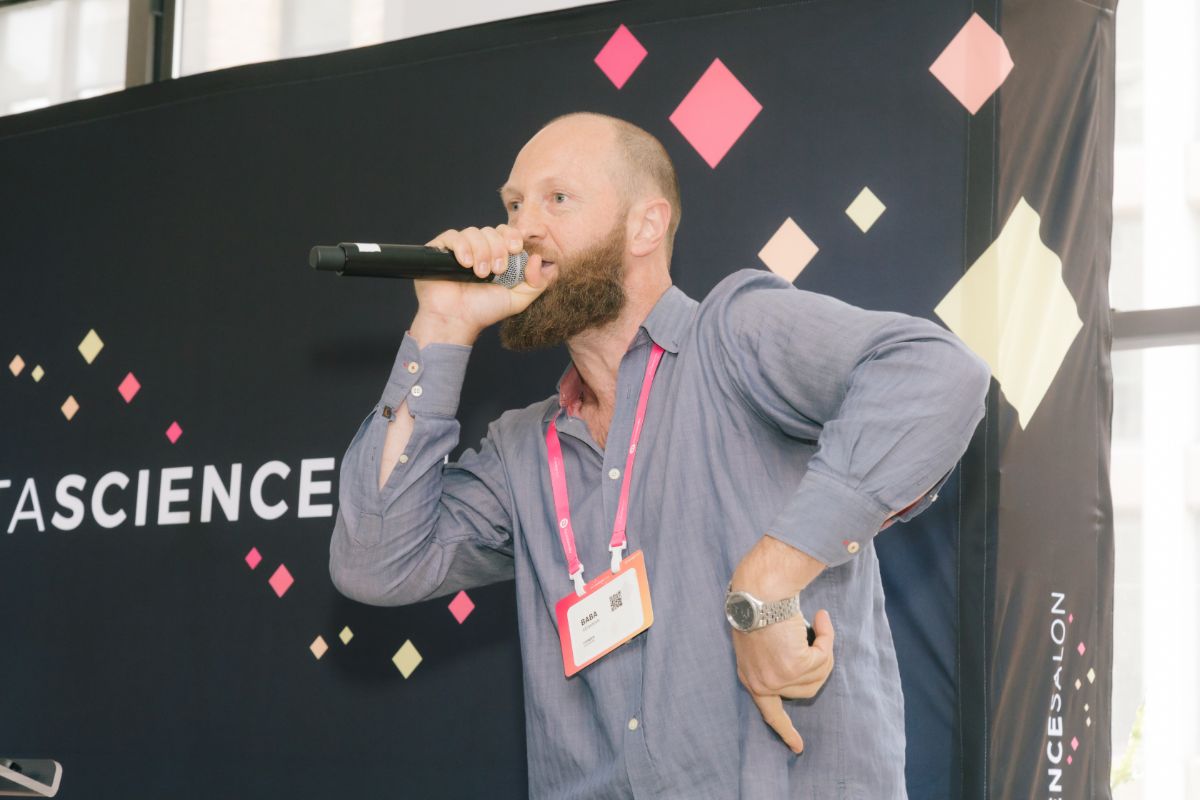 Baba Brinkman at DSS NYC 2023
Baba is a tough act to follow, but panelists Luca Fiaschi, PhD, Shi Shi, and Suri (Suyu) Chen were certainly up to the challenge. Ganes Kesari provided excellent moderation, keeping the conversation moving and ensuring each speaker had equal time to share their observations on New Age Data Storytelling with Generative AI.
For the Pixar fans in the audience, Archi Mitra showcased BuzzFeed's latest endeavor: specialized chatbots. How does that relate to Pixar? The first chatbot is named Botatouille, a nod to the secret rodent chef in Ratatouille, since it's dedicated to answering cooking-related queries.
We were just a bit startled by the uncanny valley images Bob Bress shared during his showcase of AI-generated ads, but it was super cool to get a glimpse into the future of targeted advertising.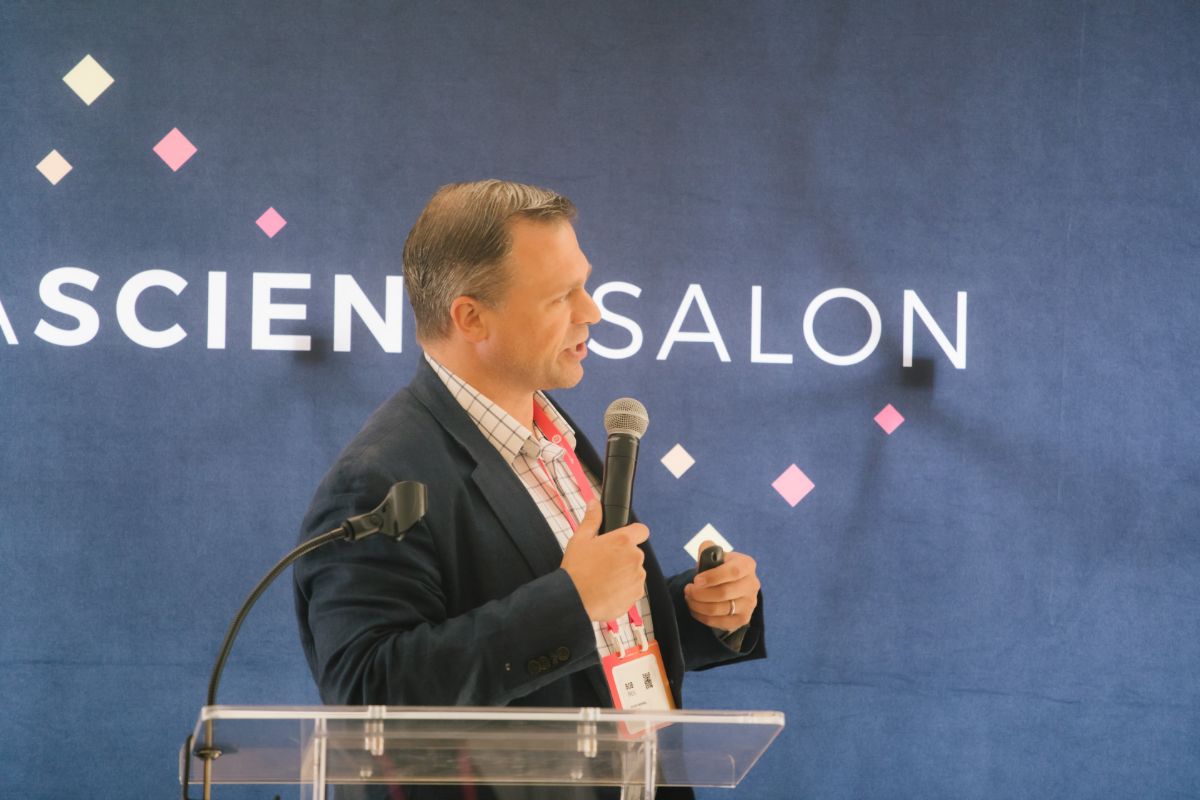 Bob Bress at DSS NYC 2023
Katerina Iliakopoulou-Zanos, Senior Software Engineer, Machine Learning at Meta, demonstrated the need for speed when it comes to responsiveness, and why machine learning is such a powerful tool for facilitating quick action.
Alejandro Rojas, VP of Applied Analytics at Parrot Analytics, highlighted the critical role content - especially GREAT content - plays for subscription-based media outlets. Excellent choice to highlight recent smash-hits like Succession and Ted Lasso.
Suri Chen returned to the podium, continuing her discussion from earlier today and exploring Marketing Mix Modeling in greater depth. Suri's presentation closed out the day on a high note, and gave us quite a bit to think about as we headed into the networking segment of this event.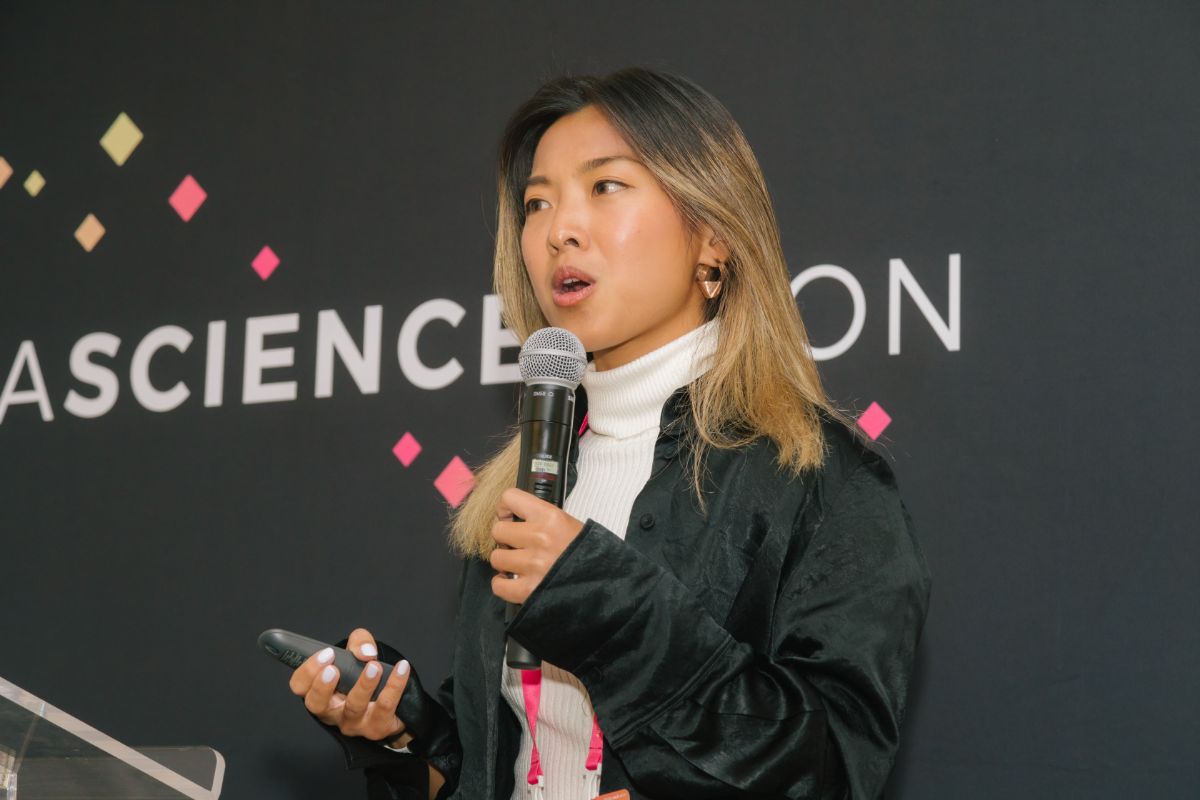 Suri Chen at DSS NYC 2023
Huge thanks to all of our speakers, sponsors, community partners, in-person attendees, virtual viewers, and volunteers! You are the heart of the data science community, and we always enjoy connecting with each of you! We look forward to connecting with each of you at our future events, so please keep an eye out for the next Data Science Salon gathering!
Article written by Caitlin Lilly, Director of Content at Data Science Salon.