Occupying leading roles in companies as established as Google, Microsoft & Dell, as creatively innovative as Adobe, Figma & Vista, and as user forward as Shopify, Indeed & Wayfair- speakers took to the stage at Data Science Salon Austin to share their insights and perspectives on AI and machine learning in the enterprise. The event took place on Feb 21-22, 2023 at 800 Congress Ave. in Austin, TX and gathered the local data science community for two days full of content sharing and networking.
Data Scientists, AI Specialists, UX Designers, Product Managers, Founders, VP's & CEO's shared various use cases for streamlining internal work-flows, elevating user experience, and leveraging data in the interest of organizational growth and development. This article covers the main takeaways and insights shared at the event.
The Arrival of AI: Reflections on Governance & the Workforce
With ChatGPT dominating recent public attention, speakers addressed the social anticipation of an AI wave. Sweta Sinha, Director of Data Science with Ascend Learning, touched on the growing need to cultivate a governing body capable of navigating the responsible and ethical use of AI systems, baring into consideration predictions that forecast AI to surpass human intelligence within this lifetime. Central to this theme was the subject not only of managing privacy, but also discerning and mitigating the unintended consequences of projected human bias within the machine.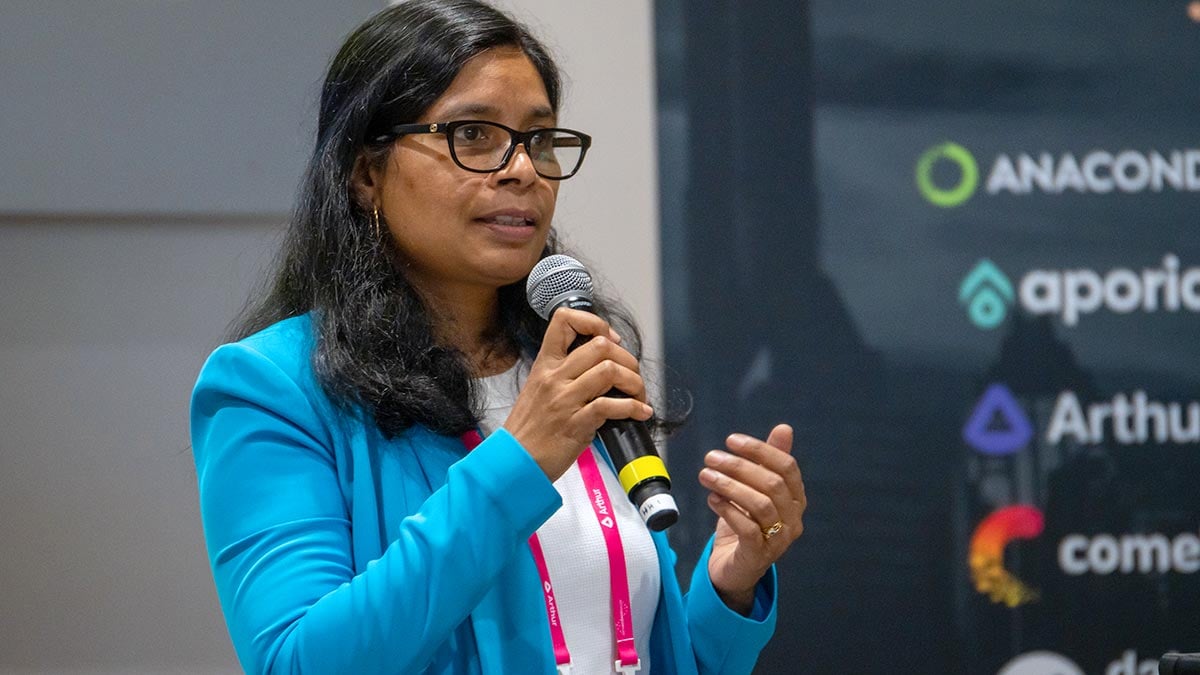 Sweta Sinha at DSS Austin 2023
Panelists Graham Ganssle, Head of Data Science with Wayfair and Randi Ludwig, Director of Data Science with Dell Technologies, went on to further tease out the implications of ChatGPT on the workforce, suspecting that a GPT2.0 might be the heavyweight to lookout for and that despite all the buzz, ChatGPT's biggest contribution yet may just be that of waking the world to the arrival of AI.
AI Powered Medical Technology & Hacking Affordability with Machine Learning
Moving beyond the existential tensions of AI's adoption into the everyday, Ying Ding, Bill & Lewis Suit Professor at Dell Medical School discussed applications of the technology within the medical field, highlighting sincere benefits on the frontlines of imaging diagnosis and medical notes. With further integrations into healthcare technologies, AI's processing powers promise to bolster predictions in health across the board, more accurately intuiting the probability of hospitalization and end of life.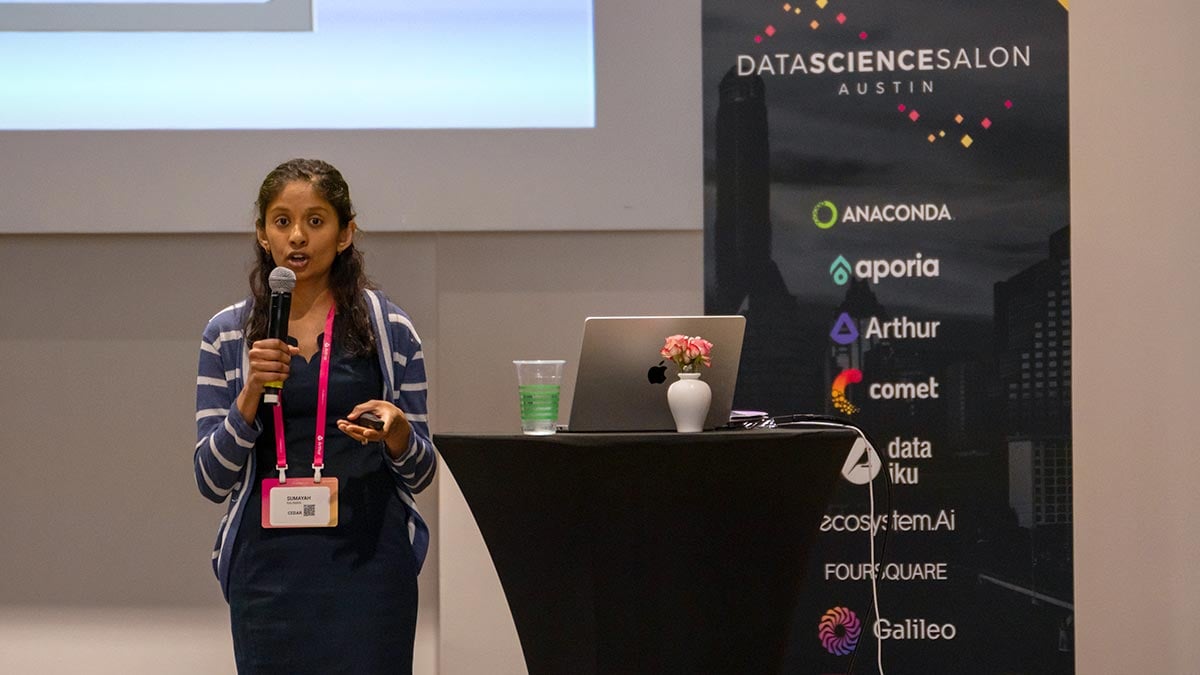 Sumayah Rahman at DSS Austin 2023
Outside of care alone and with an eye towards administration, Sumayah Rahman, Director of Data Science at Cedar, discussed machine learning's value for improving financial outcomes for both patients and providers. With a more robust analysis of patient payment histories and real-time factorization of fluctuating economic conditions, more flexible billing practices could be deployed with the intent to prioritize affordability, improving provider returns and reducing medical debt.
The Bottom Line for Business: Explainable AI & Resolving Friction
Ultimately, a consensus amongst speakers indicated that when applied to points of friction within an organization's internal processes or user experiences, the adoption and integration of AI & machine learning would help teams better surf the data pipeline and leverage more impact on working outcomes. Friction points within retail processes and geographic logistics were just a few of many real world examples where improvements in a more responsive flow of data resulted in an overall improved bottom line for businesses.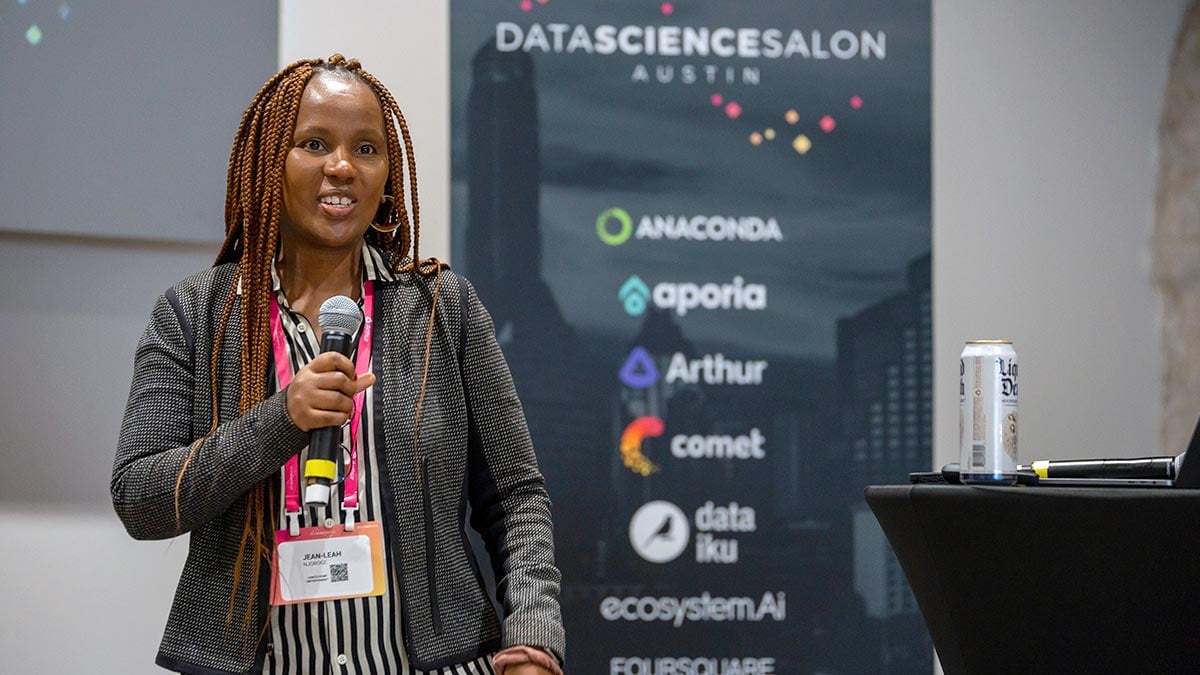 Jean-Leah Njoroge at DSS Austin 2023
Jean-Leah Njoroge, Director of Conversational AI at Lowe's Companies, discussed the importance of demystifying the black box and emphasized the value of Explainable AI (AIX). Explainable AI advocates for transparency, explainability, provability, and balances these values alongside the engineering instinct for high performance. Businesses are directed by decision makers, management, board members, and stakeholders; without adequate explainability, adoption of the technology is likely to be met with resistance and hesitation, resulting in missed opportunities and diminishing the ambitious edge businesses need to outperform their competitors.
Anticipating the AI Startup Wave & Retaining Critical Talent
Key to facilitating deeper and safer investments into onboarding these technologies within the body of an organization are specialists - which the future forecasts a growing demand for. "Human in the Loop" dynamics recognizes the importance and value of human oversight and interaction, as unintended bias, model degradation, and data drift continually present themselves to be maintenance points inherent to the automation of processes.
The value of human oversight could not go understated, as speakers collectively agreed that a quality performance was best achieved when automations worked in tandem with human oversight and at times necessary redirections, yielding more competent and thus valued results. Panelists predicted that businesses will not only need to move quickly and invest in hiring AI & machine learning specialists to onboard, integrate and manage these technologies, they will also need to seriously anticipate how to retain these specialists.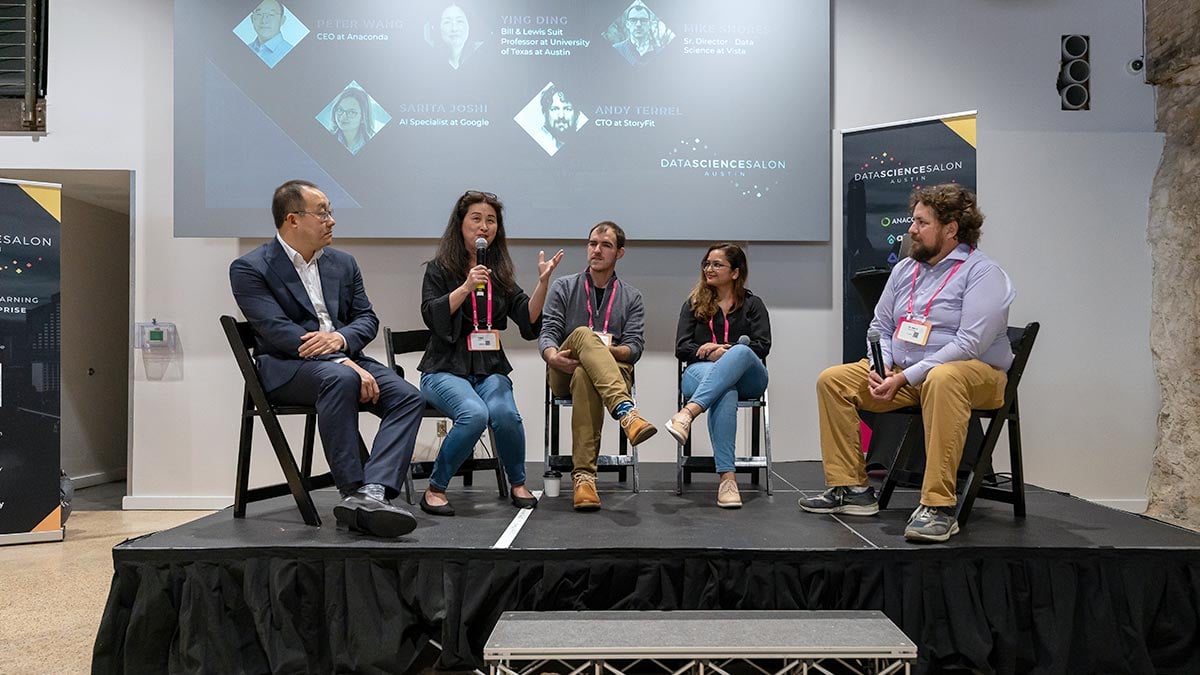 Panel: Handling Technical Surprise in the Enterprise at DSS Austin 2023
With the advent of new technology comes new opportunities, and an inevitable wave of AI startups promises to capitalize on those opportunities, emerging on the horizon as a gravitational force that will pressure businesses to get creative about not only sourcing but ultimately retaining their AI & machine learning talent.
The Value of Diverse Teams: Addressing AI Bias & Product Relatability
On the subject of hiring and teams, panelists ended the session with a practical discussion centered on the value of diversity and accelerating women not only into the industry itself, but further into roles of leadership. Speakers recognized that diversity on teams will play a critical role in mitigating the element of human bias within the machine, an important aspect of making AI not only ethical but also universal, relatable. Moving towards more relatable results promises a greater market reach with more appealing products to a larger consumer population, thereby uplifting profit and ensuring growth for businesses.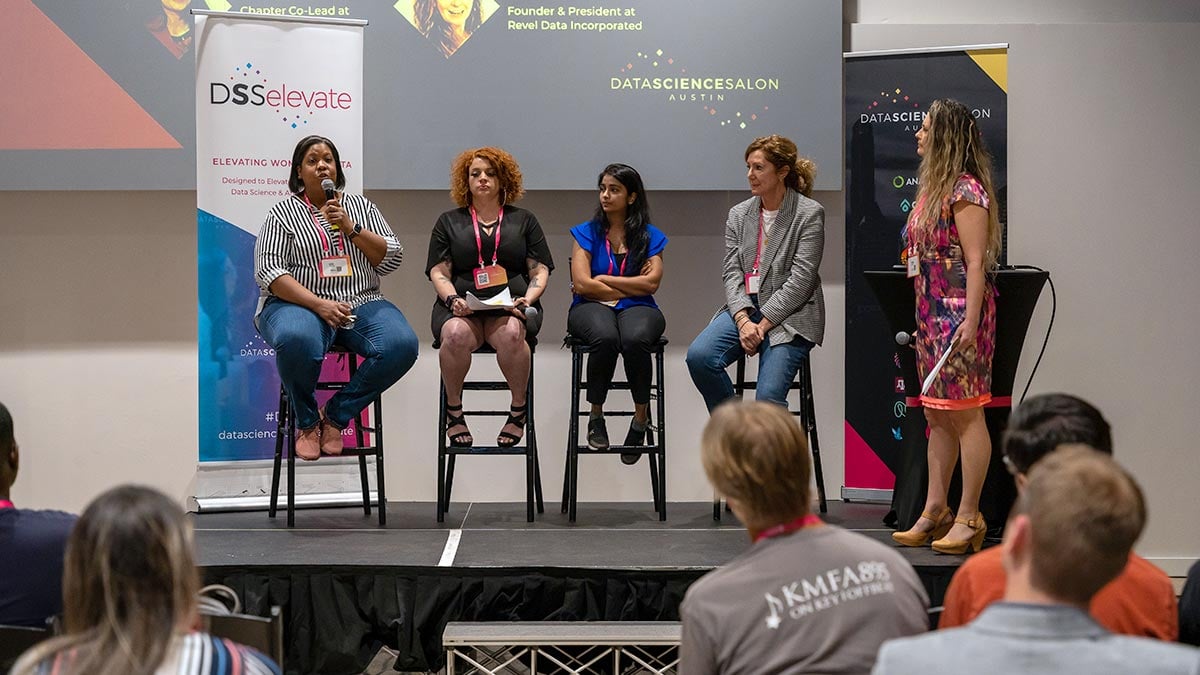 DSSElevate panel at DSS Austin 2023
Panelists agreed that creating diverse teams requires diverse leadership, and offered practical insights for sourcing and elevating diverse talent. Speakers encouraged organizations not only to open up their own spaces, but to also reach out and collaborate with other institutions in order to establish pipelines for diverse talent. With work culture offering remote positions, now more than ever organizations possess the capacity to extend their reach outside of proximal locales and into communities at large, establishing broader systems of human connection.
Intersections of a Deeper Intelligence: Human & More than Human
With that final point in mind, Kelly Tsao & Jesse Barbour with Q2ebanking managed to raise a poignant inquiry into the deeper nature of intelligence while discussing the nuances of UX and AI design. The question poised was, "What if intelligence is more than human?"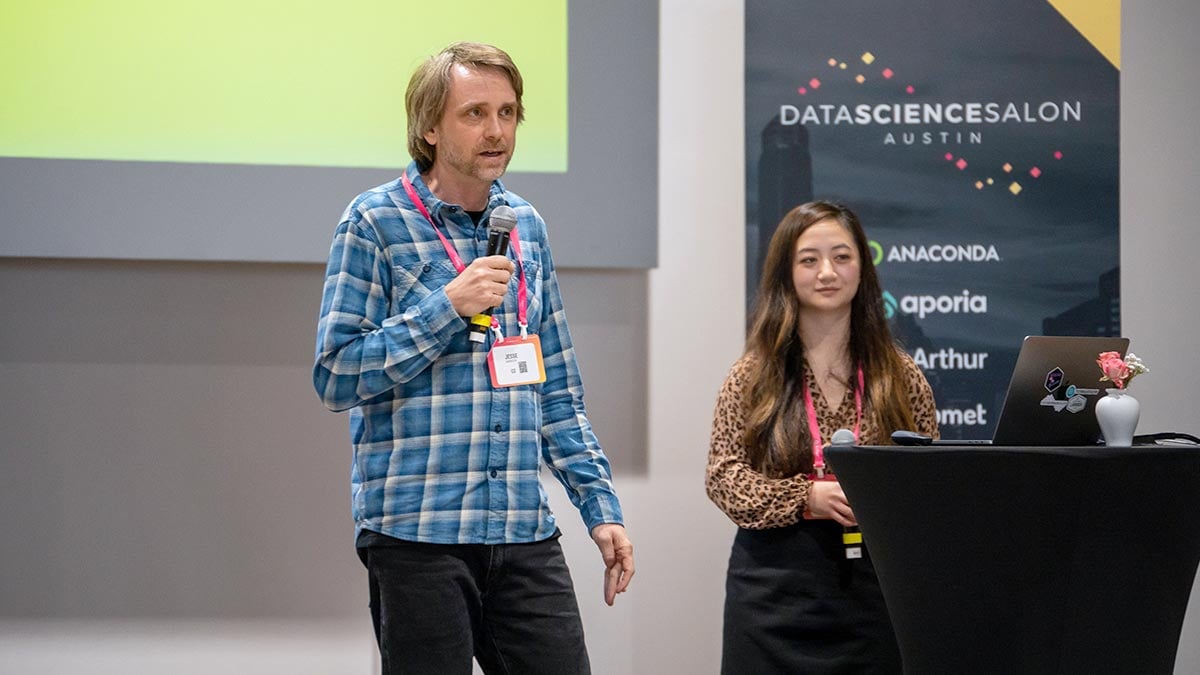 Kelly Tsao & Jesse Barbour at DSS Austin 2023
Conclusion
Highlights from DSS ATX touched on the subject of ethics, indicating a need for human oversight and the development of institutions to navigate the complexities of subjects with social impact. Readily responding to the other aspects of life that AI & machine learning have yet to influence will play a critical role in the direction the technologies take us. Already, however, AI innovations are offering promising improvements across many industries, bolstering technological performance across the board. Developments in the power of medical technology, logistics & supply chain management, and more intelligent revelations with data as a tool and product are a welcome celebration. Overall, now is the time for businesses to thoughtfully approach how they will leverage these technologies, and what roles they will create to ensure an appropriate application in order to gain a competitive edge and improve the bottom line.
The theme of moving towards a business and social culture that recognizes the value and actively utilizes advanced systems of intelligence was palpable at Data Science Salon Austin. With many examples of success, the realization that a deeper intelligence sits at the intersection of both machine intelligence and human intelligence coming together as a whole was conveyed- indicating that the future promises the presence of an intelligence that is both human and more than human.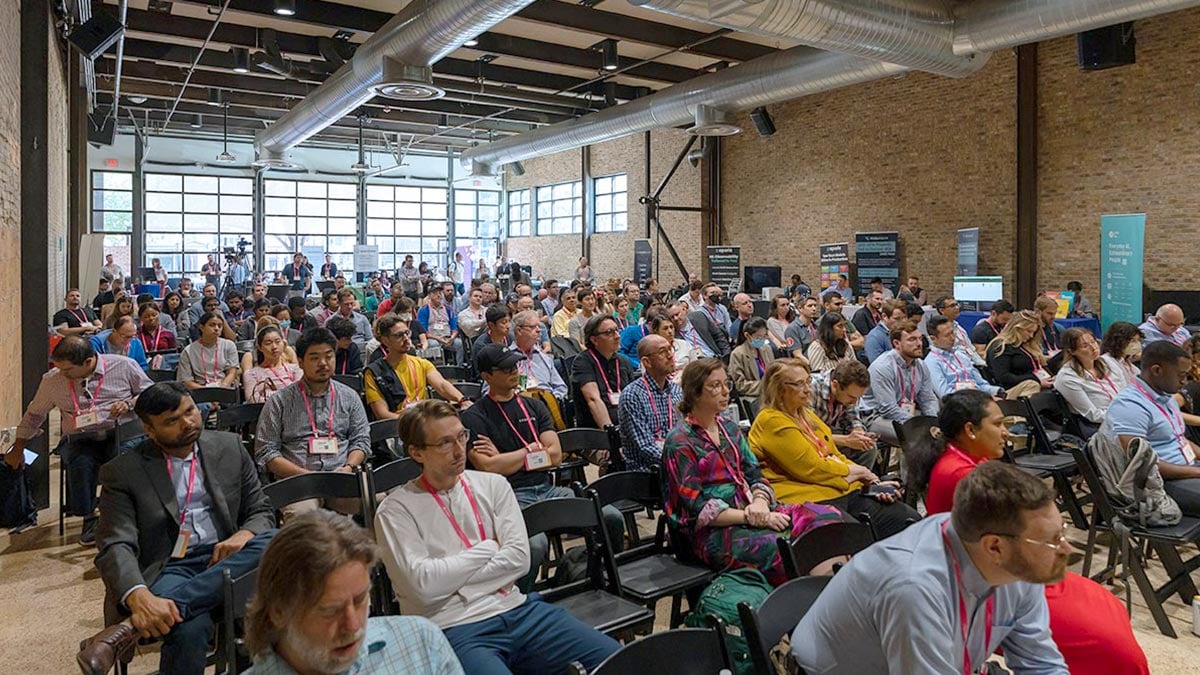 Are you interested in joining the AI conversation with industry leaders and senior practitioners? Check out the Data Science Salon events 2023, early bird rates are now available.
Article written by Jessica Kavanagh - Artist, Developer & Slow Tech Advocate.