It is very hard to put all the emotions in one post about Data Science Salon Miami Hybrid 2022 and Miami Machine Learning Week, which happened from September 20-23, 2022.
The fact that this was our fifth Data Science Salon in Miami and the first large in-person event after three years, overwhelmed us. As we were preparing for DSS Miami, we were excited like we were going on a first date. We couldn't wait to finally see the community in-person again and meet all the new people who have joined DSS within the past years.
And here we are, one week after Miami Machine Learning Week, and we're still riding high on all of the inspirational talks and incredible connections that were made during the week. We had an amazing turnout, with over 200 attendees joining us for the main event on September 21 and many more who participated virtually or joined for the Meetup and DSS Elevate brunch and panel conversation.
If you weren't able to join us or if you want to know what to expect when signing up for DSS Miami on-demand read here about the 11 main takeaways of DSS Miami 2022.
The first talk at the main event on September 21 was Arya Eskamani, the Director of Global Data Science at Visa. In this presentation, he talked about the process and lessons learned of launching a global virtual Data Science Hackathon during a pandemic.
Takeaway #1: people always register last minute to events and hackathons and communication about an event should happen often and in multiple formats!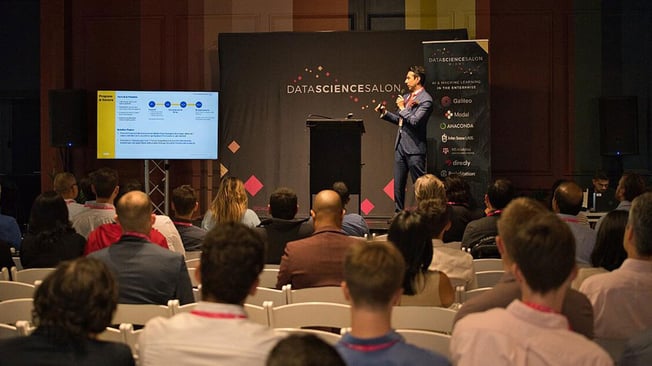 Arya Eskamani at DSS Miami 2022
The next speaker was Charles Pich, Director of Analytics at GameStop. In his talk, Charles shared his knowledge on how to build data science teams in fast-paced environments and how companies can prepare for their data teams to operate within these changing macroeconomic environments.
Takeaway #2: to build successful data science teams, organizations should look for people who are problem finders (and solvers), business sync'd and delivering value (early and often). They should also leverage flexible tech products to free up time for their data science teams.
David Talby, CTO at John Snow Labs introduced us to the current state of the art in Natural Language Processing (NLP) techniques, including entity recognition and assertion detection.
Takeaway #3: there's been a lot of progress with what can be achieved with relation extraction. Accuracy has improved significantly in the past 5 years and neural network architectures or transfer learning approaches can be reinvented every 6 months to achieve even better results.
Sha Edathumparampil, the Chief Data Officer at Baptist Health South Florida shared a set of easy-to-follow dos and don'ts and lessons learned from building up and establishing successful data science teams across multiple industries and companies.
Takeaway #4: sharing a clear strategy and roadmap is essential when leading data science teams to create a common understanding of what should be achieved. Strategies based on hypes should be avoided and low hanging, high value projects should be chosen instead.
A great lecture about video object tracking—the process of detecting, following, predicting, and understanding entities of interest across a video, both spatially and temporally was given by the amazing Alexandra Levinson – Principal Algorithms Engineer at Elbit Systems of America.
Takeaway #5: there are many exciting state-of-the art methods available to detect objects in videos, such as DeepSORT, ROLO or GOTURN.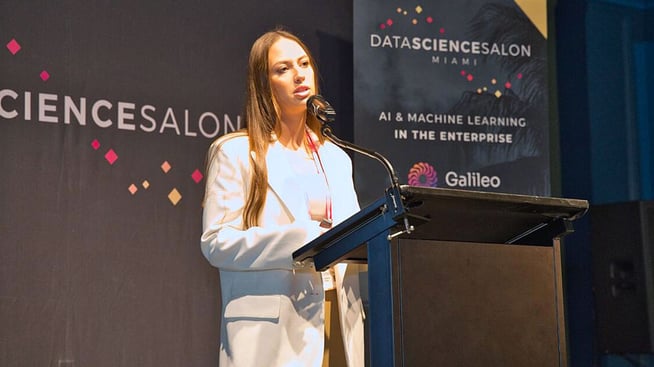 Alexandra Levinson at DSS Miami 2022
The Co-Founder at Galileo, Yash Sheth spoke about how adopting ML Data Intelligence in your workflows can lead to effective ML Teams with significantly faster model improvements.
Takeaway #6: ML Data Intelligence platforms can help organizations establish rigor and efficiency in their processes, apply data centric techniques to improve datasets as well as automates ML workflows.
We had the chance to hear a great panel discussion on implementing and operationalizing machine learning successfully in the enterprise. Our panelists were Mark Moyou – Senior Data Scientist / Solutions Architect at NVIDIA, Connie Yee – Senior Data Scientist at Bloomberg, Dr. Man Chon (Kevin) U – VP, Head of Enterprise Data Technology & A.I. at American Express, and Jaime Russ – Principal Data Scientist at Ryder Systems. The panel was moderated by Charles Irizarry – Principal at Brim & Co and CEO at Phygital.
Takeaway #7: before pushing a product to production various aspects should be taken into consideration, such as masking sensitive data, choosing the right evaluation metrics, making sure the workflow and pipeline are set up as well as being conscious of timing and cost of error.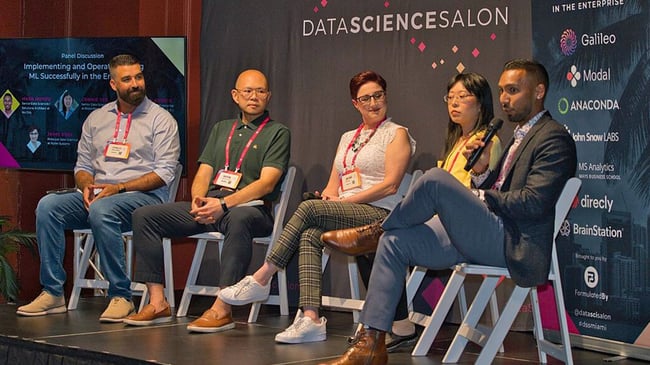 Charles Irizarry, Kevin U, Jaime Russ, Connie Yee and Mark Moyou at DSS Miami Panel 2022 (from left to right)
In his talk, Darren Shimkus, the Founder & CEO at Modal discussed how you can help your analytics or data science team become far more well-rounded so they can use a much broader range of data skills in their day-to-day jobs.
Takeaway #8: As a leader in data science you should name the skills that you need in your team, communicate those among the team and provide the means to your team to learn.
Moody Hadi, who is Group Manager – New Product Development & Financial Engineering at S&P Global Market Intelligence, talked about Natural Language Processing - a contemporary topic in a variety of different fields.
Takeaway #9: there are many great examples of how machine learning pipelines can be used to convert unstructured data to reliable information that helps solve business problems.
Iraklis Pappas the Director of Predictive Analytics at Colgate-Palmolive spoke about "Prediction, Parsimony, and Explainable AI at Colgate".
Takeaway #10: explainable modeling is not a tool or a technology, it's a user experience, where you're trying to convince somebody of your solution. You should thereby be able to answer the following questions:
How much should I trust the model?
Why is the model making a given prediction?
What would the model predict if..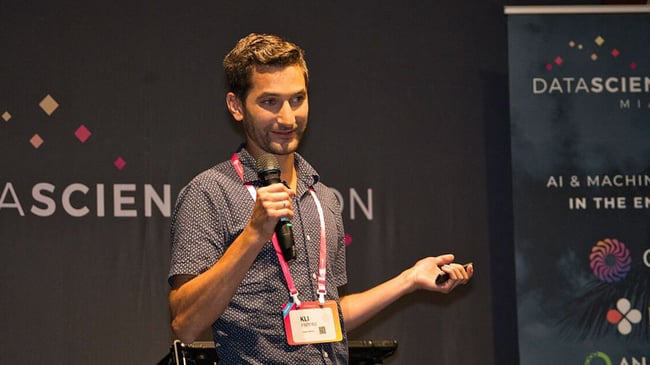 Kli Pappas at DSS Miami 2022
Next up was Jaime Russ, the Principal Data Scientist at Ryder Systems. She explained how the concept of drafting as an analogy for corporate finance can benefit organizations.
Takeaway #11: as a data scientist you have to translate your work from technical terms into business terms to explain product owners what you are doing, the deliverables to be expected and their usage.
In the last session of the day, it was time for memorable data science stories! Joe Salvatore – Chief Risk Officer at Idea Financial, Noelle Silver – Global Partner AI and Analytics at IBM, David Smith – VP, Data & Analytics at TheVentureCity, and Sha Edathumparampil – Chief Data Officer at Baptist Health South Florida shared with us their stories on you how they turned the biggest challenges into the best achievements. Wondering what those are? Register here to access all sessions and panel discussions from DSS Miami on-demand! You will enjoy every second of it and the content will be available until the end of October.
A huge thank you goes out to our sponsors for helping make DSS Miami possible: John Snow Lab, Galileo, Anaconda, Mays Business School, BrainStation, Modal and Direcly! Thanks again to everyone who made DSS Miami such a success, we're thankful for having you in our community!
Are you interested in joining the AI conversation with industry leaders and senior practitioners? Check out the Data Science Salon events 2023, early bird rates are now available.