We believe that especially these days of remote working where many of us work from home it's more important than ever to have a space to come together and be part of a like-minded group.
In the past weeks we've been working in stealth mode and thinking about ways to best serve our data science community to meet each other, exchange best practices and ultimately grow together to be more successful.
We're beyond excited to finally announce our fresh new Data Science Salon Community Network, your virtual home to do exactly that!
Introducing our brand new community
With our new community platform we're creating a hub for data scientists network, learn and up with the latest news and events (including complimentary conference passes!). Here's what you can do in the new DSS community Network:
👋 Meet data science practitioners and decision makers in your industry.
💡 Exchange AI and machine learning best practices and challenges.
📚 Discover the latest content including data science blog posts, podcasts episodes, expert interviews, webinars and much more!
📍 Connect to other members near you.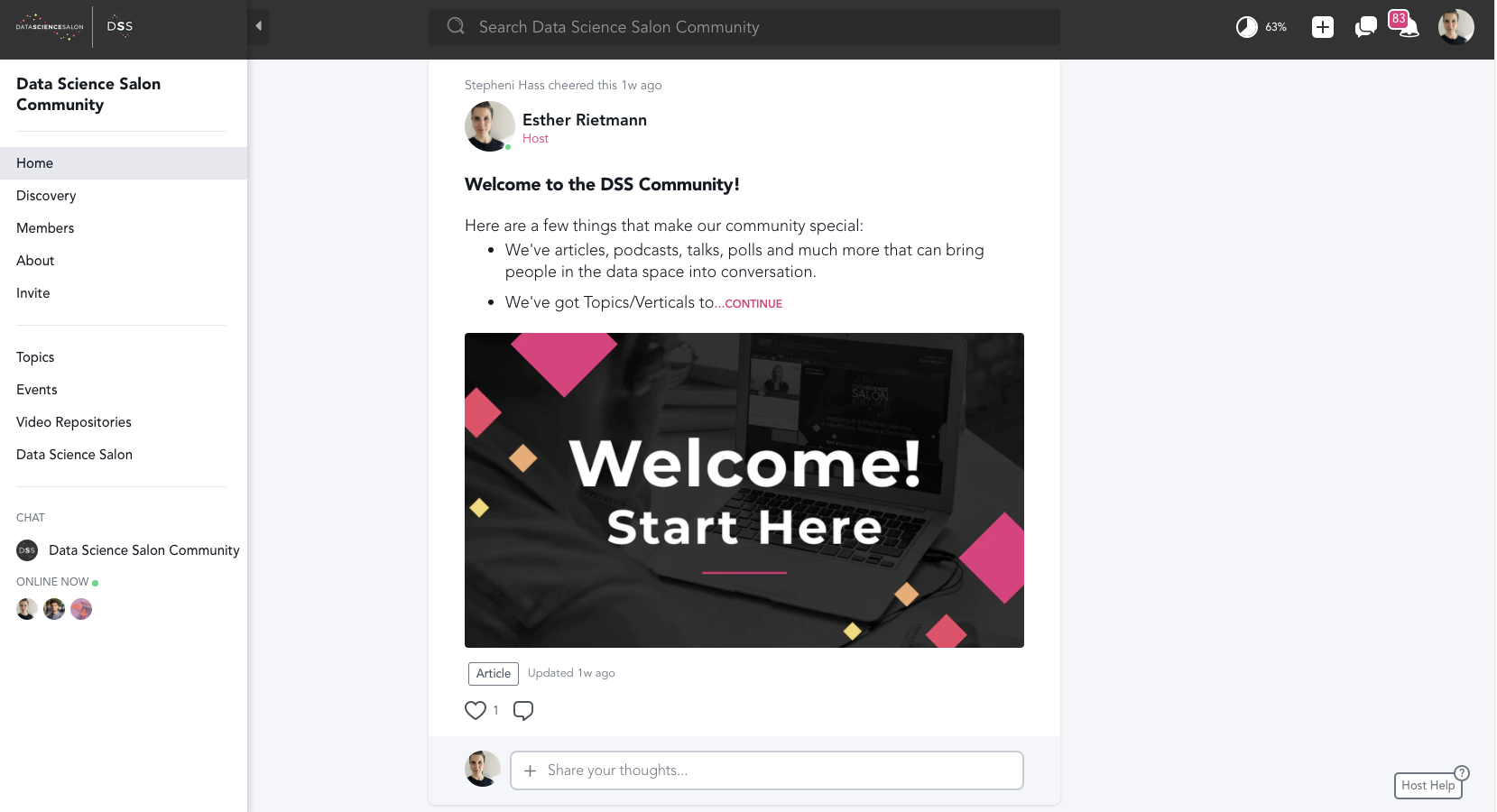 So, whether you're a data scientist looking for useful articles and help from the community to solve your technical challenges or a data science manager interested in connecting to other leaders in your industry, this is your place.
SOME OF THE Features incLUDED ARE
There's a LOT you can do on the new network and we'll be building out the features as the community grows. Here's some of the main features to check out:
Home: main feed where you see the latest and most relevant announcements, including personal introductions, event announcements, job shares, questions from the community, shared resources etc.
Discovery: overview of the top posts, members near you, top members, top videos etc.
Members: members in the network. Includes members near you, newest members, ambassadors etc.
Invite: possibility to invite your friends and colleagues to the network by sending them a link to join.
Events: overview of upcoming data science events and webinars and a link to register to them.
Ambassador Program: yes, it's worth engaging with the community and sharing your resources!😊 As an active

member you can achieve bronze, silver, or gold ambassador status. Prizes to win include free event tickets, our amazing DSS socks and memberships to the exclusive DSS Insider Video Repository.

Topics: the topics feature the main industries we're focusing on, including media, advertising & entertainment, retail & e-commerce, finance, technology & healthcare as well as diversity in data science. Whenever you're looking for content or events in a specific industry, you can check it out under that topic section. The image below shows how the feed within the finance, technology & healthcare section looks like: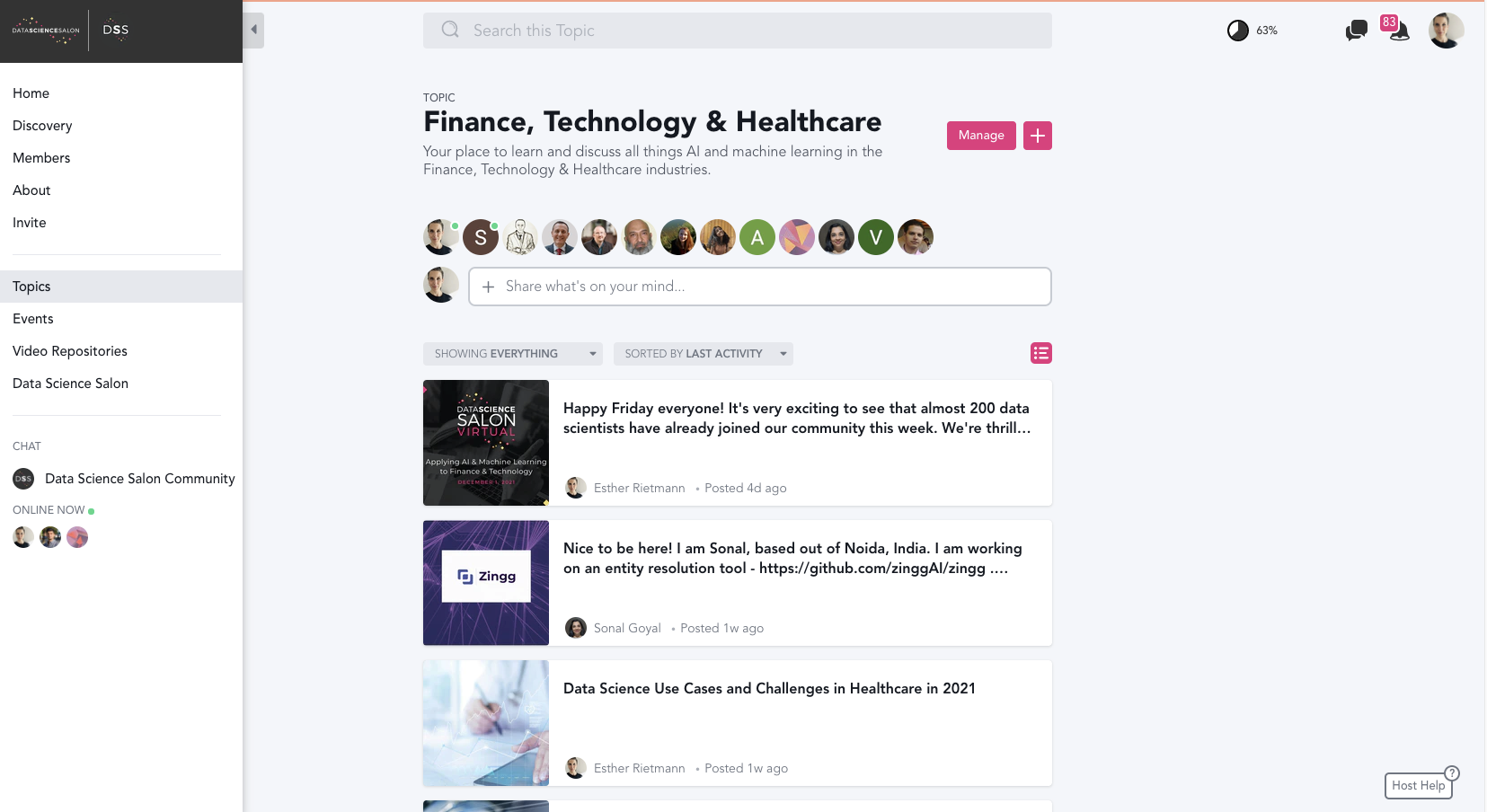 Video Repository: in addition to the free DSS Community Network you have the option to sign up for the paid

DSS Insider Repository

, which gives you access to 210+ data science expert presentations previously hosted at the Data Science Salon events. The repository is growing as all future talk recordings will be uploaded here as well.
With that, it's all been said and we can't wait for you to join the community right here: 👇
It takes only 10 seconds to create an account. Make sure to check your spam folder if you don't receive a confirmation email in your inbox.
Are you missing a feature or is there anything else you'd like to do on the network? Please let us know if you have any feedback or ideas on how we could improve the experience. This community is for you, so it should include whatever you'll find useful. Just message Esther Rietmann in the network or send an email to esther@formulated.by to share your feedback and ideas.
See you all there! 👋